Description
Brita AquaGusto250
The Brita AquaGusto250 water tank filter will enhance the flavor, aroma and appearance of all coffees including espresso and cappuccino. The filter can be used in almost any coffee machine and reduces limescale deposits. It is impressively simple and quick to operate and users also benefit from the added filter exchange
signal.
Forgetting to change the filter is now a thing of the past!!
The filter change signal means you always know the right time to change the filter. Simply place the filter change signal in a visible location and press the button firmly.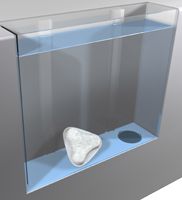 AquaGusto filters are suitable for use in all coffee machines with a water tank.
Using the filter exchange Display
1. 

Stick the filter exchange display to the water tank and press the start button firmly.

2. 

When a red line is visible, the filter exchange display is activated.

3. 

The red zone extends over time until the maximum period of use has been reached.

4. 

After approx. six months, the maximum period of use has been reached and the filter must be exchanged.